2020 Minor Release
May 20

The AMA now offers an Annuall Minor Release card. Once parents or guardians complete the forms and this application they will receive a card that is valid for the entire calendar year. THIS ELEMINATES THE NEED TO COMPLETE A FORM EVERY RACE! This will greatly speed up race-day sign up!

The form can be accessed and process intitiated online HERE.

We highly recommmend this form be be completed for ALL MINOR RACERS!
Re-opening Updates
May 19

Plans for resumption of D3 racing are in process. The races at Royal Mountain May 23 & 24 have been CANCELLED, but it is possible racing could resume thereafter. Check back regularly for updates to the schedule and resumption plan.

It has been decided that the Tri-Series will be postponed until 2021 since we were not able to hold the first round at Frozen Ocean. The NY State Championships will still take place at High Voltage as a special D3 points race.
Call to Help Kevin Jenks
May 6

Kevin Jenks, a long-time D3 member and racer, was seriously injured in a crash while practicing on Sunday, May 3.

Kevin has multiple broken bones in his back and a serious concussion. At this time he has no feeling in his legs, but it is to early to tell what the long-term prognosis will be.

Unfortunately Kevin has little savings and medical insurance. Please consider making a dontation to assist Kevin thru this diffcult time.

A GoFundMe page has been setup to help with Kevin's expenses.

https://www.gofundme.com/f/kevin-jenks-medical-fund-raiser

Thank You!
Re-open Motocross in New York
April 29

If you support re-opening of motocross tracks in New York, please sign the below petition to the Governor:

Please share the link on your Facebook pages and with your friends!
Udpate on Races
Hello, All D3 NY & VT Racers,

I'm sure after the past couple of beautiful weekends everyone is hoping to get racing as much as we are! We are all waiting to hear if and when the Governor lifts the ban on large gatherings. If he does before the April 19 High Voltage event, we WILL be racing. Until then, stay safe and healthy.

Mike, Kelley, all of the CNYMRA Board Members and Rider Reps!
2020 Schedule Posted
Jan. 19

The 2020 CNYMRA race schedule has been posted HERE.
Congratulations
Jan. 12

Congratulations to Troy Weakely for qualifying to compete in snowbike at the X-Games Aspen 2020 on Jan 23-26.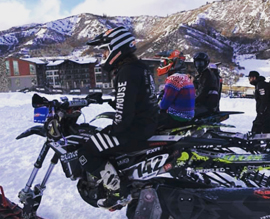 Troy, has been a member of D3 for many years and is an expert rider. He is from Poland NY and is sponsored by Spectro oils, Grim Company, Erie Glass, Sun and Snow Recreation, and IRev Apparel.
Good luck at the X-Games!
Final Points Posted
Nov. 4

Final 2019 points are posted HERE.
Utica-Rome Results
Oct. 21

Results from the race at Utica-Rome Raceway on Oct. 2 are posted HERE.
Updated Points
Oct. 16

Updated 2019 Points are posted HERE.
All non-members have been removed.
Paradox Results
Oct. 15

Results from race at Paradox on Oct. 13 are posted HERE.
Jack's Racing Results
Oct. 8

Results from race at Jack's on Oct. 6 are posted HERE.
Jack's Racing Results
Sept. 24

Results from race at Jack's on Sept. 22 are posted HERE.
High Voltage Hills Results
Sept. 19

Results from the 2019 NYS Championships at High Voltage Hills on Sept. 14-15 are posted HERE.
Utica-Rome Results
Sept. 9

Results from the race at Utica-Rome Raceway on Sept. 8 are posted HERE.
2019 Schedule Posted
Jan. 20
The 2019 CNYMRA race schedule is now posted HERE!
Sad News
Jan. 11

It is with great sadness that news of Andy Bristol's passing is released. Andy was a great person and an incredible racing talent. He will be missed by everyone in the racing community! Condolences to all of his family and friends. Information pertaining to calling hours and his funeral are available HERE.
Final 2018 Points Standings
Nov. 9

The final 2018 points are posted HERE.
CNYMRA Awards Banquet
Jan. 16
Banquet ticket ordering is now over. **Deadline for tickets was Jan. 15.**
The Annual CNYMRA Awards Banquet will take place Saturday, Jan. 19 at the Hart's Hill Inn in Whitesboro NY. Doors open at 4pm; dinner starts at 5pm.
Tickets are $29 for adults and $21.50 for children 10 and under. Tickets WILL NOT be mailed. Pick up your tickets on Jan. 19, in the lobby of the Inn as you enter.
Gas Card Update
Oct. 29

Rocky Mountain Race Gas credits will be issued shortly. You will recieve emails with credits. Parents of youth riders may call call 1-800-336-5437 to have a minor's account placed in a parents name.

Please allow a few weeks for the emails.
Jack's New Website
Sept. 4

Jack's Racing now has a website. Visit it for up-to-date race info: jacks-racing.com
High Voltage Info
May 15

High Voltage will hold practice Saturday from 10am-2pm. Cost is $25/rider.

They will hold a Pit Bike race following practice. Sign up is $15 to enter.

The first CNYMRA race for the year at High Voltage takes place on Sunday! Signup begins at 7am with practice getting underway at 8.30am. Enjoy these MX events!
CNYMRA Board Meeting
Mar. 13

The first 2018 CNYMRA Board meeting will at 7pm, April 10 at Grant Gastrom's residence. It is on Silver St. in Ilion NY.
2018 CNYMRA Rules Posted
Feb. 14

The 2018 CNYMRA RULES are now up.
Awards Banquet a Huge Success
Jan. 21

The 2017 CNYMRA Awards Banquet was a huge succes. It was attended by 300 racers, family members and track representatives! A huge array of awards and prizes found their way into racer and attendes hands!!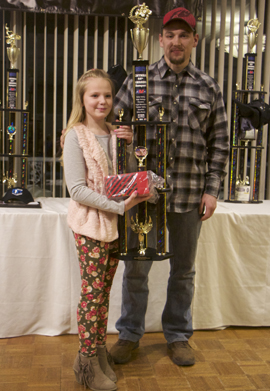 Happy award winner Alissa Duncan and presenter, Quad #1 Jeremiah Birdsall.
Thunder Ridge is now Jack's Racing!
Jan. 21

The old Thunder Ridge track is under new ownership and will now be known as Jack's Racing. The new crew is currently working hard on making impovements to the entire facility in preparation for racing in 2018!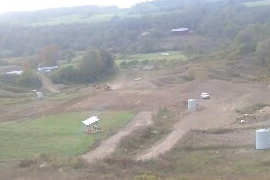 2018 Schedule Posted!
Dec. 3

The 2018 CNYMRA race schedule with double point dates is now posted HERE.
2018 Memberships
Dec. 3

2018 memberships are now being processed (see left column). Are you a NEW MEMBER or you do prefer to pay by check? Please print out and submit this Mail Order Form.
Congtrats 2017 NY State Champions!
| | |
| --- | --- |
| CAMERON DUFAULT | 122-125cc 2-STROKE |
| BRADEN CASTELLANETA | 122-250cc AMATEUR |
| NICK KRAEGER | 122-250cc EXPERT |
| BRETT BURNS | 122-250cc NOVICE |
| KODEY DEAN | 122-OPEN AMATEUR |
| NICK KRAEGER | 122-OPEN EXPERT |
| JOHN CASABLANCO JR | 122-OPEN NOVICE |
| TRAVIS JOHNSMEYER | 51cc OIL INJECTED |
| TRAVIS JOHNSMEYER | 51cc PEE WEE JR 4-6 |
| CHACE LAWTON | 51cc PEE WEE SR 7-8 |
| GAVIN BETTS | 59-65cc MINI 10-11 |
| CHACE LAWTON | 59-65cc MINI 7-9 |
| BRITTAN LEES | 85cc MINI 12-15 |
| JAKE OWENS | JUNIOR MINI |
| HUNTER NITSCH | OPEN MINI |
| MARK MOLESKY | SCHOOLBOY |
| JULIA KRZEMIEN | WOMEN 85-250cc |
| NICK KRAEGER | COLLEGEBOY |
| SEAN GILLEN | PLUS 25 AMATEUR |
| MICHAEL STRYKER | PLUS 25 EXPERT |
| ANDREW TRIPPLE | PLUS 30 AMATEUR |
| MITCHELL DOUGHERTY | PLUS 30 EXPERT |
| SCOTT KRAMER | PLUS 30 NOVICE |
| WILLIAM STAELENS | PLUS 40 AMATEUR |
| SCOTT PHELPS | PLUS 40 EXPERT |
| KEITH BISHOP | PLUS 45 AMATEUR |
| SCOTT PHELPS | PLUS 45 EXPERT |
| RICK SPINELLA | PLUS 50 |
| PETER MILLER | QUAD AMATEUR |
| CHAD YARTER | QUAD EXPERT |
| SCOTT SALLS | QUAD NOVICE |
| DAVID KOWELL | QUAD PLUS 25 |
| MASON ST JOHN-LEMERY | QUAD SCHOOLBOY |
| MADELINE ROSE | MINI QUAD 50cc |
| KAYLEE ROSS | MINI QUAD 90cc |
| | |
Great Racing Madeliene!
August 22

Congratulations to Madeliene Rose who represented CNYMRA well by scoring a 2nd place at Loretta Lynn's ATV Dirt Days in the 50cc Automatic 4-6 class and a 10th in the 50cc Open 4-8 class!
Race site change for August 6
July 31

The Aug. 6 race scheduled for Thunder Ridge will now be held at High Voltage!

High Voltage will also hold practice on Saturday, Aug. 5 from 9-2pm. The cost is $25 to ride.
Practice at High Voltage Sat.
June 21

High Voltage will hold practice from 9am-3pm on Saturday before their first big race on Sunday!

Gate fee is $10, sign up is $30/$25/$20 for 1st/2nd/3rd class. All 50cc are $20.

This is a Double Points race; we'll see you there!
Practice at Echo Valley Sat.
June 2

Echo Valley will hold Practice on Saturday. The cost is $20. On Sunday they will offer non-experts sign-up for a third class for only $15!

Echo has also made improvements to its PA system, so sound reaches into the pits and they've made smoother jumps...
Points
May 13

Updated CNYMRA points as of May 12 are posted HERE.
Race site change for April 30
April 14

The April 30 race will now be held at Echo Valley! High Voltage regrets that it won't have the permit needed to hold races by April 30. It plans to hold its first race on June 25 with a Double Points race.
2016 Champion Photos Needed.
Feb. 1

The 2016 Champions slide show is being updated! If you won a championship in 2016 please send a high quality photo to Gene by email: gnighman@gmail.com
2017 Schedule posted.
Jan. 8

The 2017 CNYMRA schedule is now posted HERE.
Help increase CNYMRA awards!
Nov. 27
If you like fantasy sports check out this brand new on-line game, FireFan.com! There is no cost and jutst playing generates donations to our district. Sign up here: https://www.firefan.com/?code=cnymra to benefit CNYMRA!
The hope is to generate additional funds to go toward future series and banquet awards!
You can find a review of the game HERE